Join us in powering the future
Renewables are the future of energy, and you can help us make it reality.
At Strata, you're part of something big
Collaborative
Utility-scale infrastructure is never a one-person show. We're always working together, and we like it that way.
Fast-paced
The renewables industry is always growing and changing, so we're always adapting too.
Creative
Got a new idea about how to do things better? We want to hear it. No playbook is set in stone around here.
Welcoming
There's a lot to learn at Strata, but we're here to help you give your best and have a good time doing it.
Challenging
No one said that putting superior quality and safety first would be easy, but we wouldn't have it any other way.
Passion-driven
We're here to build things that make the world better, for the people we serve and the planet we love.
Love working at strata. We solve challenges each day that add up to positive outcomes for our planet.
Power Plant Manager, Virginia Beach, VA
We're always reaching for better
"Good enough" isn't in our vocabulary. Here are a few of the ways we seek continuous improvement.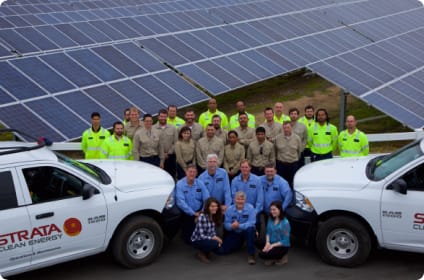 Employee Advisory Council
This rotating group brings the employee perspective and ideas for improvement to the CEO every month.
Diversity, Equity, and Inclusion
Strata Clean Energy seeks to continue building a diverse, equitable, and inclusive workforce that promotes an atmosphere where each team member is empowered to bring their unique differences and achieve their fullest innovative potential.
Community Outreach
We're not just a company—we're a member of every community we touch, from our hometown of Durham, NC to every project site across the US.
Diversity, equity & inclusion aren't just buzzwords here
We work hard to make Strata a place where everyone feels welcome.
DE&I starts with recruitment. All our interviewers go through anti-bias training, and we recruit from diverse places like HBCUs, military bases, professional groups, and community re-entry programs.
Our DE&I team meets biweekly to drive company-wide education on these important issues through discussions, readings, training, and monthly Awareness Moments.
We bring DE&I into the open with our Diversity Tree, which displays reflective comments from team discussions of DE&I issues. It symbolizes our continual growth in understanding each other.
Put your military experience to work
If you're a veteran or transitioning service member, you'll fit right in here.
25% of us come from the military, and we're committed to hiring vets at every level of the company.
We know veterans bring the skills and attitude to be part of high-performing teams in fast-paced environments.
We partner with Solar Ready Vets and on-base recruitment to help veterans and transitioning service members find new careers in renewable energy.
We'll help you make a difference
Our community outreach programs let you decide what causes to support.
Every employee gets 8 paid volunteer hours per year to use with any community group or nonprofit organization they want.
If there's a local drive—for food, clothing, gifts, blood, anything—count us in. We're always collecting something to give to those in need.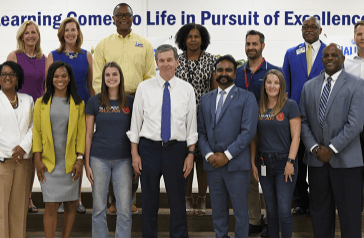 SPOTLIGHT
The Apprenticeship Program
Strata has partnered with Apprenticeship NC to create a program for young people to learn Solar Operations and Maintenance skills. Students combine classes at Halifax Community College with paid, on-the-job training at Strata.
"We are honored to be a part of this critical program," said Strata CEO Markus Wilhem. "Our hope is that this program will be used as a model for other counties and states to increase the number of qualified clean energy professionals. This is exceptionally crucial as states advance clean energy legislation as our industry continues to grow."