Strata Refinances and Expands Existing Revolving Credit Facility with Zions Capital Markets to $170 Million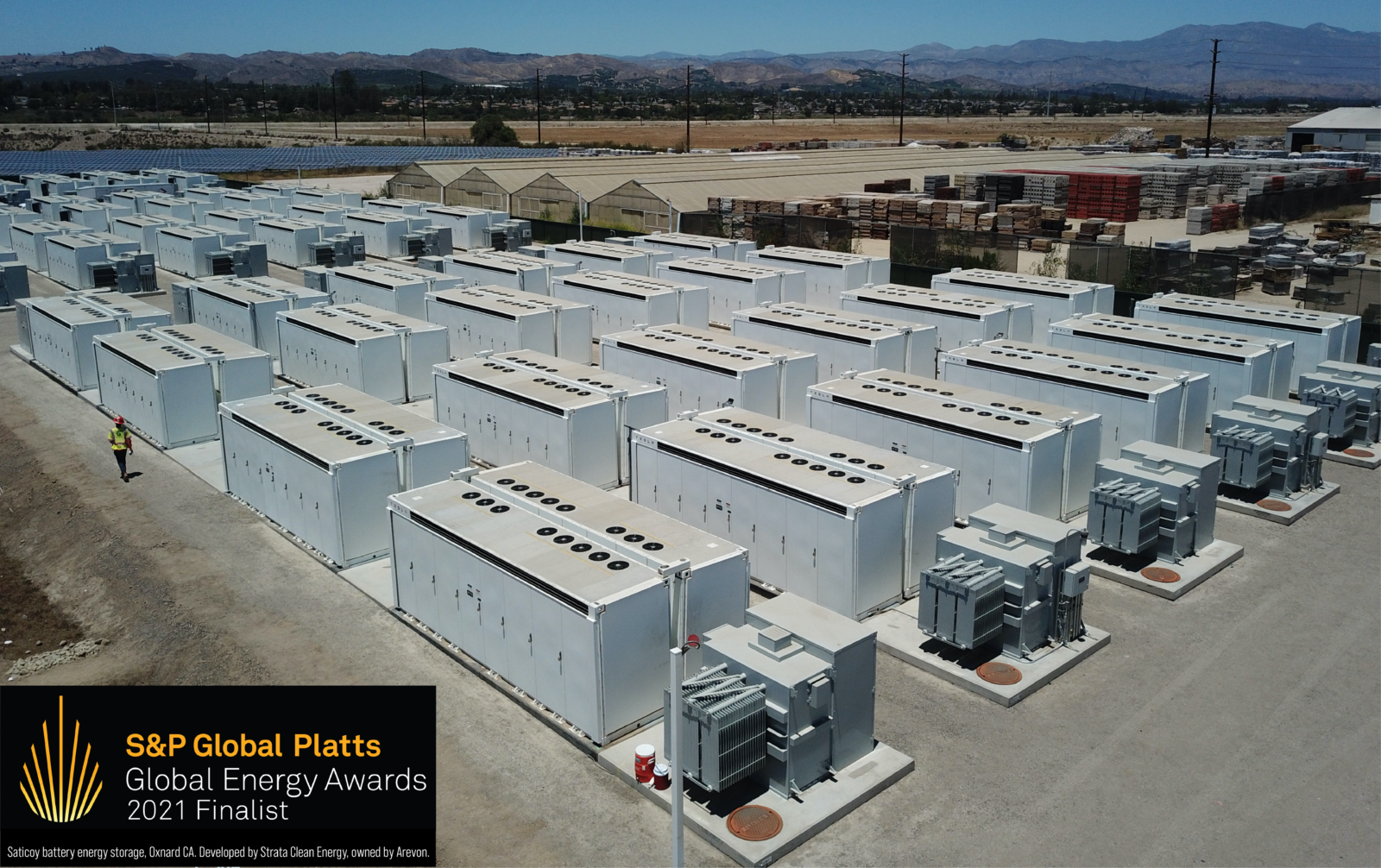 Strata Clean Energy Selected as 2021 S&P Global Platts Global Energy Awards Finalist
Strata Clean Energy Selected as 2021 S&P Global Platts Global Energy Awards Finalist
Development of unique 400 Megawatt-hour battery energy storage project positions Company for Excellence in Power Award
DURHAM, NC (October 20, 2021) – Strata Clean Energy ("Strata" or "Company") has been named a finalist in the 23rd annual S&P Global Platts Global Energy Awards. The 2021 Finalists were announced by program host S&P Global Platts, the leading global provider of energy and commodities information and spot market benchmarks.
"It's an honor to be selected as a finalist for the Award of Excellence in Power for developing the innovative Ventura Energy Storage, a 400-megawatt hour battery energy storage project near Oxnard, CA," said Joshua Rogol, Chief Development Officer at Strata Clean Energy. "This paradigm-shifting battery energy storage project proved that utilities can transition away from natural gas power plants without compromising reliability or increasing costs to ratepayers."
Strata worked closely with the local community to develop Ventura Energy Storage – now known as Saticoy – and is grateful to the many stakeholders who worked tirelessly to make the project a reality. As one of the largest operating battery projects in the world, the project provides on-demand power to nearly 100,000 Southern California Edison customers via a twenty-year purchase and sale agreement. The project is now owned by Capital Dynamics, an independent global private asset management firm, and S&B USA Energy. Arevon Energy, Inc. oversaw construction and provides asset management services to the project.
Jenny Salinas, Vice President, Marketing, S&P Global Platts commented, "This year's complement of 196 finalists truly indicates the outstanding innovation and supreme leadership occurring in so many sectors across our industries. Companies are tackling critical issues such as emissions control, digitization, investment to improve the quality of life, and so much more. We are proud to honor these individuals and companies on their achievements."
To view the complete list of Award categories and finalists, as well as more information on the Awards and upcoming ceremony, visit the website: www.globalenergyawards.com.
About Strata Clean Energy
Strata Clean Energy, LLC and its affiliates (collectively "Strata") are a vertically integrated solar and storage development, engineering/procurement/construction ("EPC"), and operation/maintenance ("O&M") company. Strata has deep utility experience with more than 170 projects in operation, nearly 7 gigawatts ("GW") in development and over 3GW under management across the United States. Strata's end-to-end services reduce risk, increase efficiency, and maximize cost-competitiveness for our customers.
About S&P Global Platts
At S&P Global Platts, we provide the insights; you make better informed trading and business decisions with confidence. We're the leading independent provider of information and benchmark prices for the commodities and energy markets. Customers in over 150 countries look to our expertise in news, pricing, and analytics to deliver greater transparency and efficiency to markets. S&P Global Platts coverage includes oil and gas, power, petrochemicals, metals, agriculture, and shipping. S&P Global Platts is a division of S&P Global (NYSE: SPGI), which provides essential intelligence for companies, governments, and individuals to make decisions with confidence.