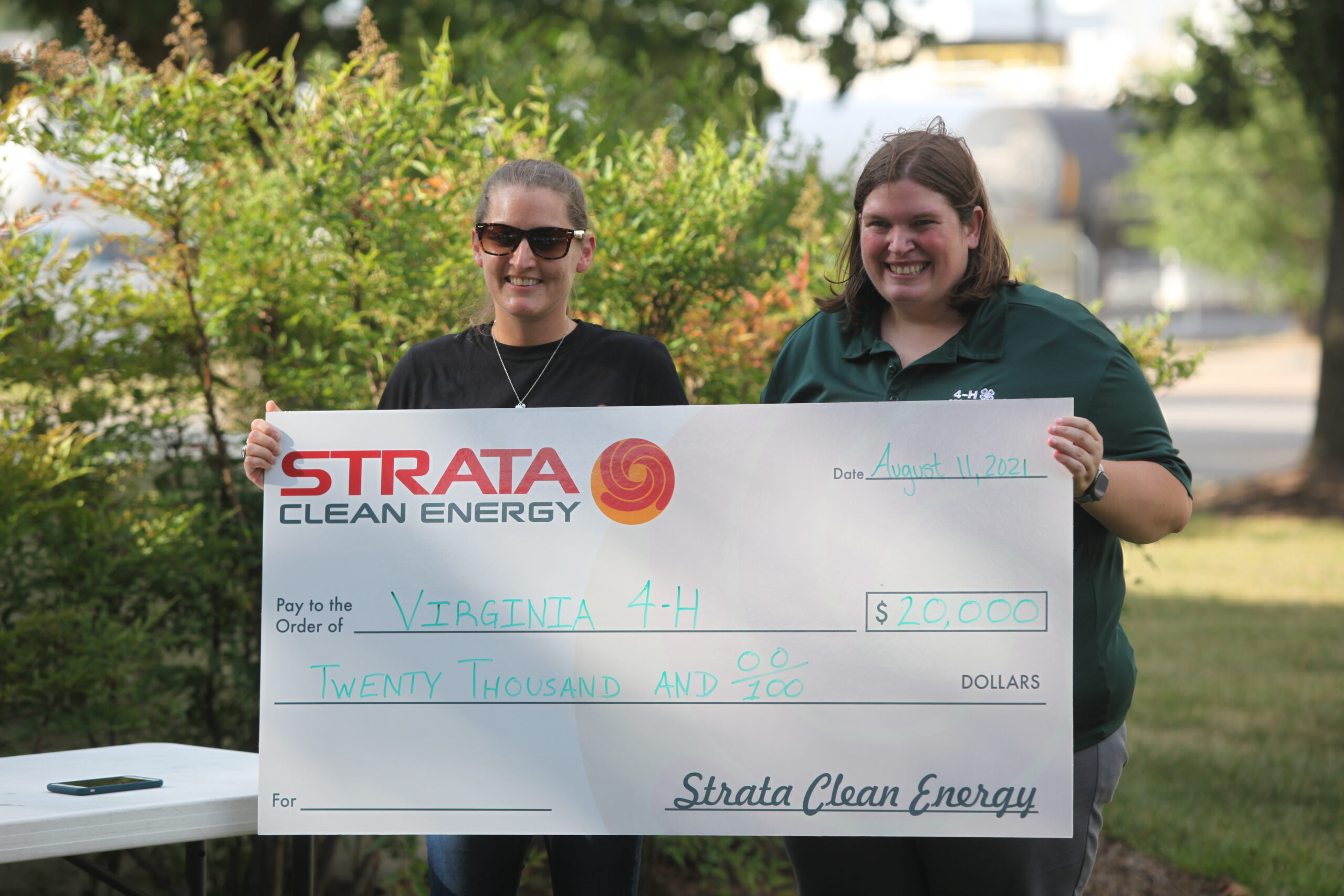 Strata Clean Energy Partners with Virginia 4-H on STEM Education Program
Ashly Johnson, Director of Community Outreach for Strata Clean Energy, presents Erika Bonnett, Extension Specialist – 4-H Program Development, with a $20 thousand donation to the 4-H organization. – Photo by: Benjamin Craft
Verona, VA: Strata Clean Energy and Virginia 4-H announced a collaborative partnership to provide in-school energy education programs to more than 1,500 youth in 20 communities throughout Virginia. To commemorate the partnership, Strata and 4-H hosted a hands-on educational event on how clean energy technology works with the Augusta County 4-H's Young Leaders Club on Wednesday, August 11th.
"We're proud to partner with the Virginia 4-H to provide needed energy educational resources to students throughout Virginia," said Strata CEO Markus Wilhelm. "These types of collaborations are a part of who we are as a company and we look forward to continued opportunities with 4-H."
Standing for head, heart, hands, and health, 4-H uses youth development programming to build strong, confident leaders through school-based, after-school, and community clubs that build leadership skills, encourage civic engagement, and provide other life skills to participants.
"Strata's partnership will help us provide educational opportunities for youth throughout Virginia to learn about clean energy as well as explore career opportunities," stated Emily Wong, Director of Development, College of Agriculture and Life Sciences, Virginia Cooperative Extension. "The youth in our program will greatly benefit from the programming as Strata's donation strengthens our STEM-oriented offerings."
With a direct connection to research at Virginia's land-grant universities, 4-H is the first experience many young people have with higher education. 4-H participants are youth, ages 5 – 19, taking part in programs planned and initiated by Virginia Cooperative Extension personnel.